This page was created to update Kathleen's progress. Please note that new information is coming in and prognosis is changing almost constantly.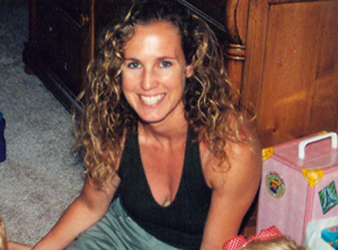 Kathleen Davey had a cardiac arrest on Sat. morning, January 24, 2004 around 10 a.m. after doing pullups in the garage. Samie, the Davey's 6 -year-old daughter, called 911. Police arrived at the house within around 3 minutes of the call and administered CPR. Three minutes later an EMT unit then arrived and revived her heart with a defibrillator and rushed her to Valley Medical Center in San Jose.
Kathleen's tragedy has been complicated by a struggle for treatment at Kaiser Permanente. While at Kaiser, though improvement was not expected, and little made, her nurses were kind, thoughtful, and positive with Kathleen and surrounded her with love. The family much appreciated the nurses' care, but felt that intense rehabilitation was necessary for a more meaningful recovery. After nearly six months she was transferred to the SCVMC Journey to Recovery Program where she began to make incremental gains on what was bound to be a long and arduous road to recuperation. In August, Kathleen was moved to the Almaden Health and Rehab Center in San Jose, CA. She continued to show improvements through hard work and the help of many. In December, Kathleen finally came home to her loving family.
After a long battle to recover, Kathleen passed away on June 21, 2013. The obituary is here The family greatly appreciates the support the community poured out during this ordeal.
| | |
| --- | --- |
| | |
| Kathleen & Mike Davey | Kathleen, Samie and Rachel Davey |